Growing up in Turkey in 90s, we didn't have too many local or international shows on TV that portrayed gay characters. Those characters that existed were usually butt of the joke. When I randomly discovered Will & Grace in late 90s, after watching an episode of Friends, it was instant love. I suddenly had a huge crush on Will. Besides being an eye-candy, he was also a true idol for me at the time. Living a life, surrounded by good friends that got him into crazy shenanigans, in arguably the best city on earth. I was still not out as a gay boy, so watching a "normal" character as the lead and learning the queer culture in my dream city was a magical thing. I was so sad when the show came to an end in 2006, I was literally ready to slap someone just like Karen, who slapped Jack when she found out Friends and Fraser were ending.
(I can't even get through writing a blog post without referencing a scene from the show, try talking to me in real life, my boyfriend knows…)
When I won the Green Card Lottery in 2008, moving to NYC was a no-brainer. Although I briefly knew one person in all of the city, I knew I was meant to be there, after all I had learned so much (!) all these years, from watching Teenage Mutant Ninja Turtles, Friends, Sex and the City, but most importantly Will & Grace!
During the first week in my new city, in the true fanboy fashion, one of the first things I did was to visit 155 Riverside Drive (Will & Grace's apartment building) and The Puck Building (Grace's office building). Like instead of doing NYC things.
Over the years, I never stopped watching W&G. For a very long time though, especially during the golden age of iTunes downloads, it made me FURIOUS that it was not available in the US on any digital platform (am I right, fellow fans?) , and we had to resort to annoying DVD box sets, which made it impossible to binge the show seamlessly. I remember searching for "Will & Grace" a couple times a month in the iTunes store and being disappointed each time.
During one of my trips to Boston in 2012, my friend who was also an Emerson College graduate, took me to the library building where the set of Will's Apartment was on display, thanks to Max Mutchnik, another alumnus, who graciously donated it to his alma mater. Standing in front of the set, made me realize, it was sorta official, there would never be a comeback. The set was on display as a piece of TV history, and that was that.
Luckily, our fabulous four, Eric McCormack, Debra Messing, Megan Mullally and Sean Hayes did continued being part of so many other brilliant shows after Will and Grace ended. I even caught Sean Hayes (twice) on Broadway, at his brilliant An Act of God, and ran into Debra shooting a scene in Chinatown for Mysteries of Laura.
Then came that day in 2016, came when the glorious "Vote, Honey" hit YouTube. I could not believe there was NEW material to see. To savor it without being interrupted, I remember running to the bathroom at work and watching it there. WOW. That was quite a hit, and everyone around me was talking about how the cast literally stayed the same after the finale. But of course, I didn't raise my hopes about a comeback, since this was a very special and timely mini-episode, which probably came from a place of activism.
But I was wrong. HAPPILY.
The show indeed was confirmed to come back. The fans went wild with the news. As the premiere approached, I moved to Hell's Kitchen (Midtown West), just a couple blocks from the huge Will & Grace billboard in Times Square. I literally passed by it every day even when I had no reason to. It felt incredible haha!
The return of the show meant so much more than just a reboot to me, it was almost like someone gave me back some of my happiest times from my past.
We watched the first episode of the reboot with a huge crowd at Industry Bar. People from different age groups, mostly between 25-50, were absolutely thrilled to watch a brand new episode. I mean, writing this post right now, it's almost the end of 2019, on a Thursday evening, I ran to my apartment in Chelsea, just a couple minutes before 930pm, in time for a BRAND NEW EPISODE OF WILL AND GRACE, after from a busy day and an intense workout and some grocery shopping. Silly, I know, but makes me immensely grateful. From a young, closeted boy to almost living Will's life (sans Grace, Jack & Karen).
Several months later, something else that's HUGE happened. My talented friend Fatih Melek, also a huge W&G fan back in Turkey, was assigned to have a phone call with the cast for an exclusive interview regarding the show making a comeback on the Turkish network as well. You can actually read the Google-translated version here. FULL CIRCLE, I'm telling you!
Sorry you had to read my life story until now but here comes the most exciting part: In June 2019, for my 35th birthday, my boyfriend gave me the ultimate gift: Front row seats to a taping of the final season of Will & Grace. Normally, websites like 1iota.com offer free tickets for shows, but the front row wasn't easy to get. Plus, since he works at JetBlue we'd fly there on the fabulous Mint class (aka First Class) in style and fully flat seats! Considering our return was a red-eye, this was incredible. The taping takes place on Wednesdays so it's really tough to manage taking days off unless you are as crazy as us and can manage a 24-hr trip.
This slideshow requires JavaScript.
We left JFK at around 7pm on Tuesday November 5th and arrived to LA at around 10pm, and took an Uber directly to our hotel. Our hotel, BLVD Hotel & Spa was a great find. As a Hilton Honors Gold member, I tend to choose their properties, but the prices at the Universal City Hilton were kind of insane ($300+) so we took our chances with Orbitz. Our room resembled a mini-suite and the night rate was almost half of what we'd pay at Hilton. Definitely recommend it to anyone who's looking for an affordable but chic and comfortable base in the Universal Studios area.
The day of the taping, we arrived to the designated spot and got in the line with the other fans. Sadly soon after, we were made to check our phones in so there are absolutely no photos from inside the set (which was strictly forbidden anyway).
The taping started around 3pm and continued until around 9pm. We were front and center, which allowed us to exchange hellos with many cast and crew, who were super friendly to fans, even though their main focus was shooting the scenes. Molly Shannon and Demi Lovato, which was a special treat for the entire audience. "Crazy Val" is such an awesome addition to the show, can't get enough.
During the shooting, what blew our mind was the professionalism and the attention to detail. There were many times Max ordered retakes of scenes since they felt they were not good enough and there was a minor detail that just wasn't right. The other fascinating thing was the writers literally writing new jokes, or swapping them, and having the cast memorize them on the stop for additional takes. We were treated to multiple versions of several lines and this made the experience even more special.
The craziest part of this whole story?
There was an emcee/host during the entire taping who entertained the crowd of 250 fans and kept them engages between takes. At some point, Set Designer Peter Gurski, came out with a yellow bowl… He said it was a part of the set, and it was signed just then by the four cast members plus the guests on the episode.
Peter and the host said one lucky fan would bring this original piece of the set home if they guessed the number they had correctly. The number was between 0 – 500 and I kid you not. When the mic was going back and forth in the audience, suddenly someone handed it to me and I randomly said 455. And they were like "THAT'S IT, YOU WIN!". I mean, literally 0.2% probability. WHAT IS GOING ON?
The next thing I know is that I was called to give a speech and I mumbled something along the lines of W&G being my favorite show. But IT IS MORE THAN A TV SHOW for me and many people like me. W&G was/is/has been/will be our voice, our reason to cheer up and live our lives out and proud, for many more years to come.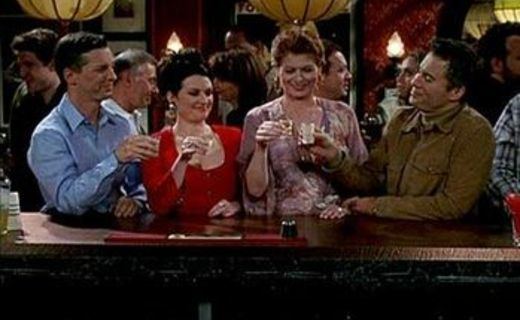 This slideshow requires JavaScript.
OK, can we now talk about the Jack & Karen spin-off? Or Jack 2020 – Election Special? Please?!
<!-- Global site tag (gtag.js) - Google Analytics -->
<script async src="https://www.googletagmanager.com/gtag/js?id=UA-131734578-1"></script>
<script>
  window.dataLayer = window.dataLayer || [];
  function gtag(){dataLayer.push(arguments);}
  gtag('js', new Date());

  gtag('config', 'UA-131734578-1');
</script>